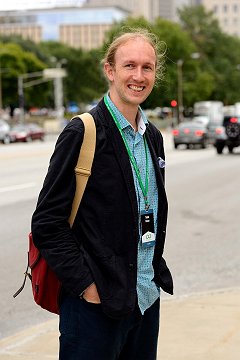 Registered user since Wed 2 Sep 2015
Bio:
Tomas is an Assistant Professor at Charles University in Prague. He is interested in understanding the nature of programming and finding new and better ways of doing it. He uses various methods ranging from theoretical programming langauge research, applied work resulting in open-source software, as well as interdisciplinary approaches that look at programming through the perspectives of history and philosophy. He believes that the most interesting developments in programming happen when a new way of thinking makes difficult problems disappear.
His current work is focused on programming systems. Programs are created not by just writing code, but by interacting with rich stateful programming systems or environments. Programming systems still include code, but they also encompass live or structure editors, runtime environment and other developer tools. He believes that we need to (i) find new fundamental ways of studying programming systems, (ii) revisit past programming systems that offered interesting ways of interaction, and (iii) apply those ideas to domains such as data science tooling or low-code and no-code programming.
In recent years, he also worked on functional programming and contributed to the development of the F# language and type providers at Microsoft Research. His PhD from University of Cambridge was on coeffects, a theory of context-aware programming languages. At University of Kent and The Alan Turing Institute, he spent most of his time working on programming tools for data science.
Affiliation:
Charles University
Research interests:
Programming Languages, Data Science Tools, Philosophy of Science
Contributions